About Us
Our Profile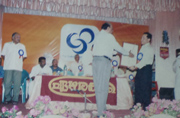 The very natural reasons that exist around us caused the birth of Ezharakkoottam, an assembly of like-minded men, who wished to serve the needy and the poor. On May 10-2001 eight friends together with three patrons, assembled in Kallumkoottam purely a poor rural area at Wadakkanchery and gave birth to the oraganisation 'Ezharakkoottam".
It is a registered organisation under Charitable Society Act (R.No.448/2001). The organisaion is doing something for the very deserving persons. Those who have received the aid/service range from people of rural areas, tribal in forests, inmates in mental asylum, Juvenile homes, jail, hospitals, kidney patients, Cancer patients, etc.
The verbal meaning of the word Ezharakkoottam in the Malayalam tongue is " A group of seven and a half persons". Even though the real number of the founder members is eight, they thought of leaving the remaining half the number to God almighty. Only God Almighty can fulfill the emptiness of the organisation, guide it through the right direction and grace it for doing good to the humanity.
In the beginning the source of fund for the services extended was from its own members. Gradually the projects we selected were highly expensive, the financial commitments of which were beyond our capacity. In such a situation on asking for help we began to receive aids in kind.
As the organisation has taken roots in the general public and the realm of service has been widened, the number of applicants for help in different nature has been increased. This has convinced us that in order to continue our good services, we need much more funds. Here, in all earnestness, we would like to put forth our request to the philanthropic minds any where in the world to join with us to strengthening the cause.